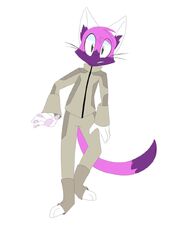 Name: Soda Spider
Species: Keh'kitteh
Faction: Diamondclaw
Rank: Cell
Gender: Male
 Long and lanky, Spider has never been particularly coordinated and certainly not good at stealth. What you see is what you get with this Keh'kitteh. He has no secrets, so whatever he thinks of you will be pretty visible. He tends to be curious and a bit overly cautious, often tossing out his opinion that ideas the others have are unsafe.

Ad blocker interference detected!
Wikia is a free-to-use site that makes money from advertising. We have a modified experience for viewers using ad blockers

Wikia is not accessible if you've made further modifications. Remove the custom ad blocker rule(s) and the page will load as expected.